I picked up another spider a few days ago. This one was living amongst the strandline debris on the beach immediately in front of Aberthaw power station. An unusual habitat for a spider!
It turned out to be the Linyphiid or Money spider Halorates reprobus. It is an interesting species in that Britain is the centre of the population; apparently there are relatively few records from continental Europe. In Britain it is widespread around the coast but thinly distributed. The Spider Recording Scheme data suggests few previous records of this species from Glamorgan: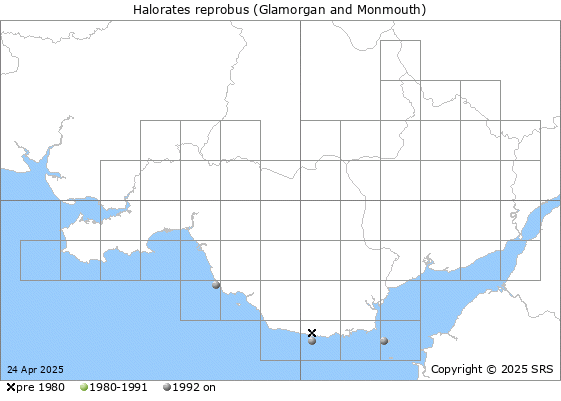 Link : http://srs.britishspiders.org.uk/portal.php/p/Distribution/s/Halorates+reprobus/o/23/u//x/
Source:
Source: Spider Recording Scheme/British Arachnological Society (2012) Website and on-line database facility
It is a relatively small spider at approx 3mm long. Too small in fact for my camera to get a reasonable pic of it. If anyone wants to have a look there are some pics here.
It will be interesting to see if the population at Aberthaw is still there in a few months time after the storms have finished lashing the coast!